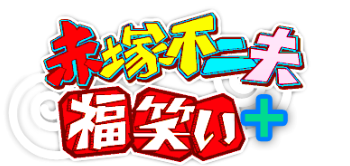 finished sale  

Fujio Akatsuka Fukuwarai plus

You'll keep playing with this game for hours. This game is highly addictive!

Fujio Akatsuka was a pioneer Japanese artist of comical manga. He is known as the Gag Manga King. You can play Fukuwarai with characters drawn by Fujio Akatsuka!

*Fukuwarai is a Japanese game similar to pin-the-tail-on-the-donkey.
Fukuwarai mode
A face of the selected character shows an incredible move!

Rely on your memory and pin different parts of the face such as eyes,
nose and mouth in the right place to gain a high score.


Fukuwarai plus mode
Make a face using your favorite parts of a face. Create a new character you've never seen!

Picture Bakabon's Papa with facial parts of Rerere no Oji-san (Mister Rerere)! Who could ever create such a bizarre character?

There are more than 5.7 million ways to create a face!
Are you ready to burst into laughter at the humorous results?

Title : Fujio Akatsuka Fukuwarai plus
Category : Entertainment
Version : 1.0
Support : iPhone/iPod Touch
finished sale