---

All About Pretty Cure!
"Pretty Cure Dictionary - Pretty Cure Certification Quiz for Daddy -"

The icon for young girls, the legendary fighters Pretty Cure are here!
Welcome to the world of Pretty Cure!

++++++++++++++++++++++++++++++++
"All About Pretty Cure" is now free
++++++++++++++++++++++++++++++++

The popular fighting girls Pretty Cure, has release its 15th TV series.
Dads and moms! Can you catch up with your kids' conversations?



"How many Pretty Cure girls are there?"
".....Ahhhh, I'm sure there are many!"

"Please cheer me like Cure Yell!"
"What? Like Cure Yell?"


Well doesn't that sounds familiar to you?
With this app, plenty of visual animations and information about each characters, such as their personality, hobbies and special items... There's no doubt you'll be a Pretty Cure expert!
Don't you want to know which Pretty Cure that your kids likes?

There's search function to look up Pretty Cures from color. The "Character References" will satisfy the fans, and additional updates on "Pretty Cure Quiz" to try out the knowledge of entire series of Pretty Cure.

Prepare for the new movie with this app, and you'll be able to enjoy it more with your kids!




[
Basic of App (Free of Charge)
]
*Enjoy as soon as you download it.
* Archives of summary of movies (Only the works after the app released)
* The contents includes the functions of dictionary and album of TV series "We are Pretty Cure" to "KiraKira ☆ Precure A la Mode"
[ Add-on Contents (120yen) ]
Character Dictionary of Newest TV series "HUGtto! Pretty Cure"
* Information and images about "HUGtto! Pretty Cure" will be updated during March 2018 to February 2019. User that purchased Add-on will enjoy all of the contents within this range.
* Information about "HUGtto! Pretty Cure" will move to [Basic of App] after March 2019.
*Requires iPhone 5S/iOS7.0 or later recommended.
*The app weights more than 500MB. Requires download on Wi-Fi or on the computer.
*Reboot the app after the installation due to the increase in app volume.

---


Last Update 2019/02/20 Ver.8.9.6
Ver.8.9.6 Update Release.(2019/02/20)
Ver.8.6.3 Update Release.(2018/12/05)
Ver.8.6.1 Update Release.(2018/11/01)
Ver.8.2.7 Update Release.(2018/06/06)
Ver.8.1.1 Update Release.(2018/03/14)
Ver.8.0.0 Update Release.(2018/03/03)
Ver.7.7.3 Update Release.(2018/01/06)
Ver.7.6.1 Update Release.(2017/11/08)
Ver.7.6.0 Update Release.(2017/11/01)
Ver.7.5.3 Update Release.(2017/08/01)
Ver.7.4.1 Update Release.(2017/06/02)
Ver.7.1.2 Update Release.(2017/04/27)
Ver.7.0.5 Update Release.(2017/03/15)
Ver.6.8.5 Update Release.(2017/01/25)
Ver.6.7.1 Update Release.(2017/01/07)
Ver.6.6.2 Update Release.(2016/10/22)
Ver.6.4.0 Update Release.(2016/08/26)
Ver.6.2.3 Update Release.(2016/06/24)
Ver.6.0.0 Update Release.(2016/03/26)
Ver.5.15.1 Update Release.(2016/02/09)
Ver.5.15.0 Update Release.(2015/12/12)
Ver.5.13.1 Update Release.(2015/10/22)
Ver.5.10.5 Update Release.(2015/06/09)
Ver.5.0.3 Update Release.(2015/03/31)
Ver.4.12.2 Update Release.(2015/01/08)
Ver.4.10.1 Update Release.(2014/10/10)
Ver.4.7.1 Update Release.(2014/08/05)
Ver.4.4.0 Update Release.(2014/05/04)
Ver.4.1.2 Update Release.(2014/04/08)
Ver.4.0.0 Update Release.(2014/03/26)
Ver.3.31.0 Update Release.(2014/01/22)
Ver.3.29.2 Update Release.(2013/10/25)
Ver.3.27.0 Update Release.(2013/08/21)
Ver.3.24.1 Update Release.(2013/06/14)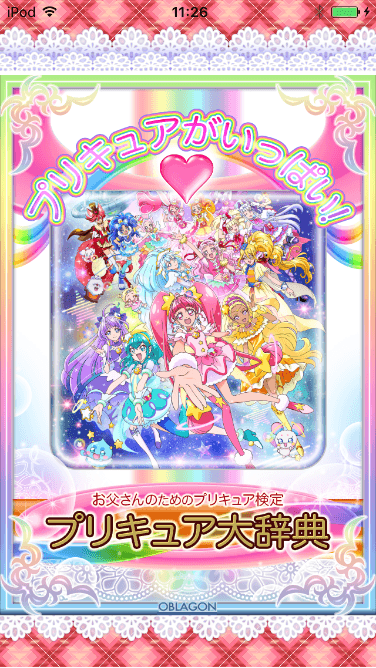 Tittle : All About Pretty Cure!
Pretty Cure Dictionary
(- Pretty Cure Certification
Quiz for Daddy -)

Category : Entertainment
Version : 8.9.6
Support : iPhone (after 5S/iOS7.0)

Price : Free


---

Add-on :
"HUGtto! Pretty Cure"
Contents
Add-on Price : 120 yen


---

Japan's handling of only AppStore