Price : 200 yen

---

All About Pretty Cure!
"Pretty Cure Dictionary - Pretty Cure Certification Quiz for Daddy -"

The icon for young girls, the legendary fighters Pretty Cure are here!
Welcome to world of Pretty Cure!

The popular fighting girls Pretty Cure, has released the 10th series
and 15th movie.
Dads and Moms! Can you catch up with your kid&s conversation?

"How many Pretty Cure girls are there?"
".....Ahhhh, I'm sure there are many!"
"Pretty Cure girls do Love Link!"
"What, isn't that like compact??"


Are you informed enough when you talk with your kids?
If not, don't worry!
With this app, plenty of visual animations and information about each
characters, such as their personality, hobbies and special items...
There is no doubt you'll be a Pretty Cure expert with this app!
Don't you want to know which Pretty Cure character that your child likes?

The new interactive game "Dance de Smile" features the cute dance
poses from ending is added with update on October 2012.
Tap to look on illustrations and mimic the favorite pose with your child.
Also the there will be updates on "Character References" and "Pretty Cure Quiz".

Prepare for the new movie with this app, and you'll be able to enjoy
it more with your children!




*Android4.0 or later recommended.
*The app weights more than 300MB. Requires download on Wi-Fi or on the computer.

---

Last Update 2014/04/08 Ver.1.18.0
Ver.1.18.0 Update Release.(2014/04/08)
Ver.1.11.0 Update Release.(2014/01/31)
Ver.1.9.0 Update Release.(2013/10/29)
Ver.1.4.3 Update Release.(2013/05/08)
BugFix Update Release.(2013/04/17)
The first public version Ver.1.0.0 release.(2013/04/12)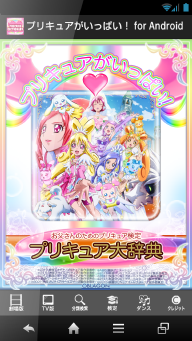 Tittle :
All About Pretty Cure! for Android
Pretty Cure Dictionary
- Pretty Cure Certification
Quiz for Daddy -

Category : Entertainment
Version : 1.18.0
Support : Android(after Android4.0)

Price : 200 yen