---

2016/10/08
"SAI for Newbies" Ver. 1.1.0 Update Release.
>>Learn More
---

SAI for Newbies


The world easiest tutorial for Paint Tool SAI is now available for e-book in English!
If you are like to draw color illustrations and comics, do you know Japanese paint software SAI?
SAI is paint tool that can express the vivid colors specialty for digital but is able to express blotting of watercolor(ink) like as hand drawing.
It's essential paint tool in Japan that everyone is using from students to professional illustrators.

And now the world easiest tutorial is availabe for e-book in English.
This tutorial will explains the basics such as actions and words thoroughly that it's clear understandable for beginners.
Don't you have problem because you are new to drawing image on PC? you are drawing illustration on PC?

"Why is the layer is useful?"
"I want to customize the style of brush!"
"How can I make my image as it was drawn on paper by using texture?"
This app is solution for these troubles!

Draw cool drawings by mastering the SAI!
---

Last Update 2016/10/08 Ver.1.1.0
Ver.1.1.0 Update Release.(2016/10/08)
Fix bug
The first public version Ver.1.0.0 Release.(2012/12/09)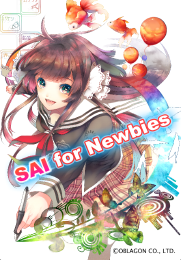 Tittle : SAI for Newbies
Category : Books
Version : 1.1.0
Support : iPhone/iPod Touch
Price : $ 5.99